Dream Glass Flow are Augmented Reality (AR) glasses for gaming and video streaming.
 It's compatible with Remote Play for PlayStation, Xbox, PC, as well as cloud gaming/video
streaming across various platforms.
 It also upgrades portable gaming experience from 7 inches to 120 inches for handhelds (Nintendo Switch, Steam Deck and more).
 As the world's pioneer of AR glasses, Dream Glass Flow's Cloud Computation Box is equipped with Wi-Fi 6 and 2x2 MIMO (Multiple Input Multiple Output) technology, which makes efficient use of network bandwidth and eliminates latency, delivering to you the smoothest online gaming experience.  
 Weighing only 59g/2oz, Dream Glass Flow provides the ultimate comfortable gaming experience anytime you want and anywhere you go!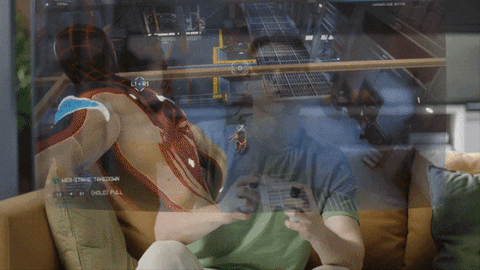 Dream Glass Flow is the gamers' dream coming true. No need to hold a handheld up high or watch gaming monitor in an award angle, you can now play your favorite game in the most comfortable position, for as long as you like! Say Goodbye to sore arms and neck pain!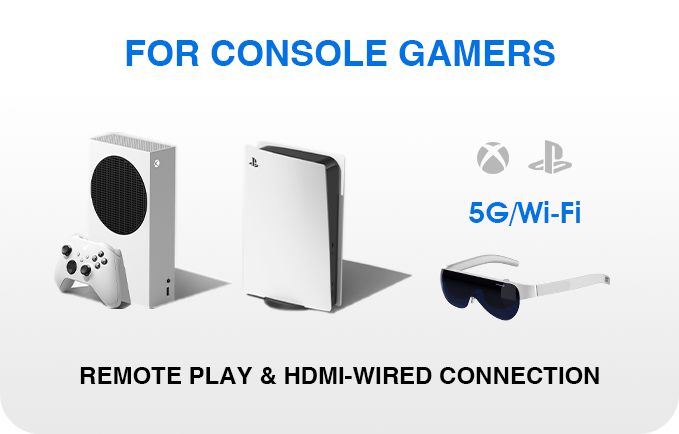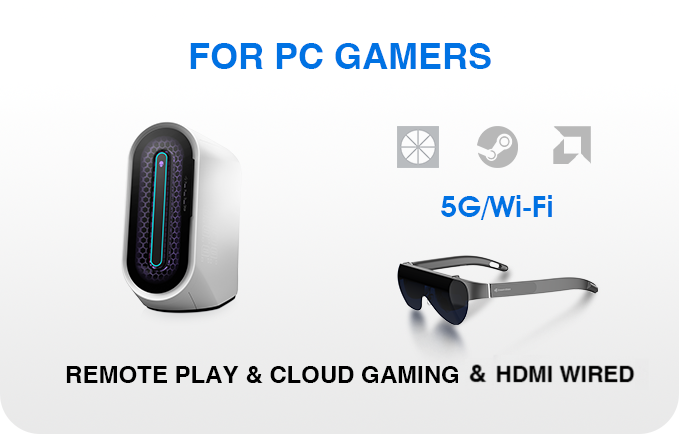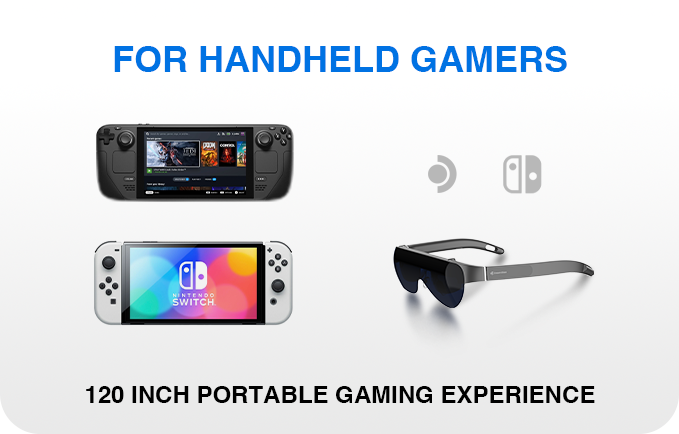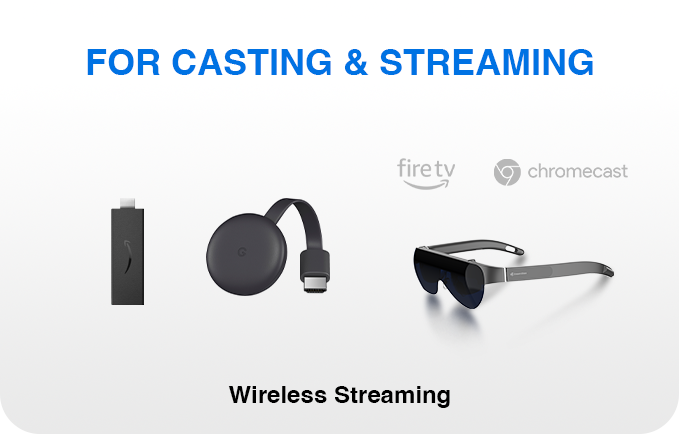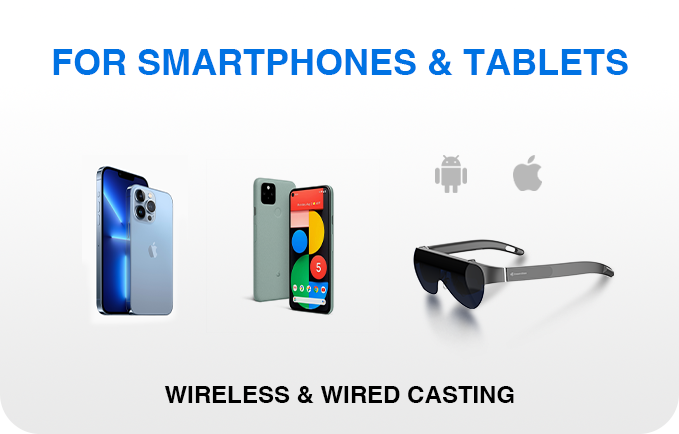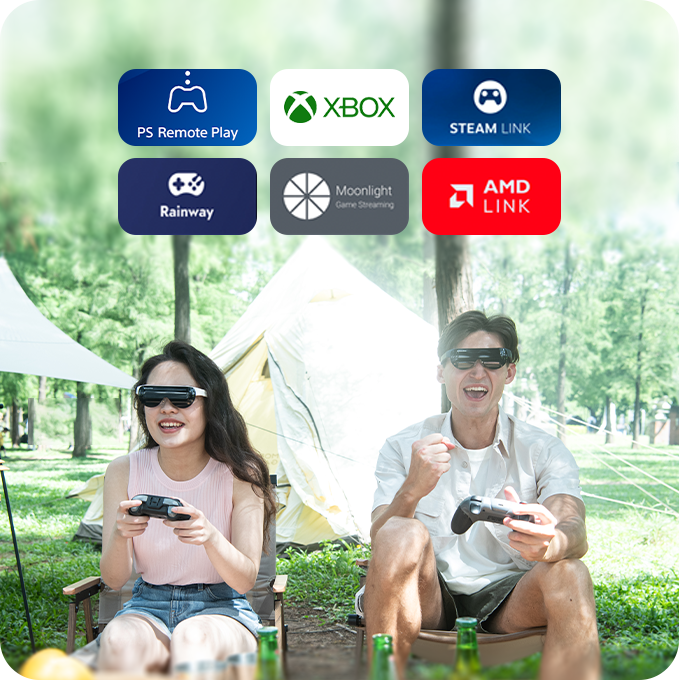 Planning a trip? Take Dream Glass Flow with you and leave the heavy consoles or Gaming PCs at home. You can access your gaming rigs remotely with Dream Glass Flow through remote play apps such as PS Remote Play, Xbox App, and more. No matter you are camping with friends, chilling in a café, or just having sometime during lunch break, Dream Glass Flow make it possible to play your favorite AAA games anytime and anywhere, in total privacy!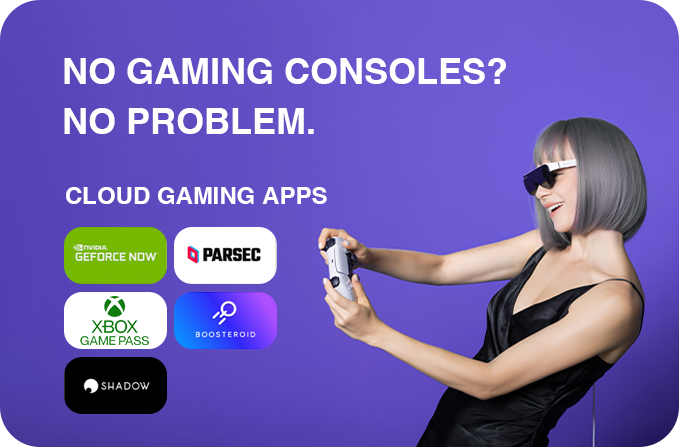 The future of gaming is on the cloud. Dream Glass Flow supports all cloud gaming platforms such as GeForce Now, Xbox Game Pass, Parsec, and more, making gaming on the cloud more accessible than ever. No need for the latest GPU which costs a fortune, with Wi-Fi 6 connectivity and 5G compatibility, Dream Glass Flow lets you to play AAA masterpieces with ease. Catch a glimpse of the future!


Who doesn't love handheld gaming? Now you can play your beloved games on the go. But something is still missing, you cannot take your TV with you at the same time…Now you don't have to settle for less! Dream Glass Flow is the best buddy for handhelds such as Nintendo Switch and Steam Deck. No longer squinting at the small screen, you can now break free to enjoy your handheld games with a 120" display! Upgrade your handheld experience with Dream Glass Flow to dive into the cyber world anywhere
you go!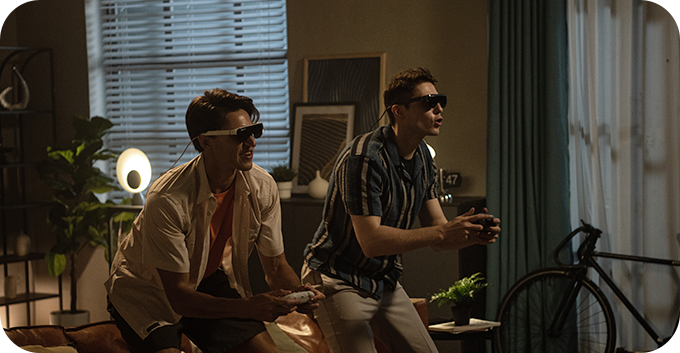 A good buddy spices up the game. Join multiplayer games using Dream Glass Flow, and share the laughter and joy with your friends. With the HDMI Splitter in the Flow Ultimate Double set, you can easily double the fun and co-op with your friend by connecting two Flow glasses to one console.

With Wi-Fi 6 tech and a 2x2 MIMO antenna built-in, Dream Glass Flow boosts your gaming experience with 2400 Mbps speed and minimizes latency. Say goodbye to lags and rocket your way up the scoreboard.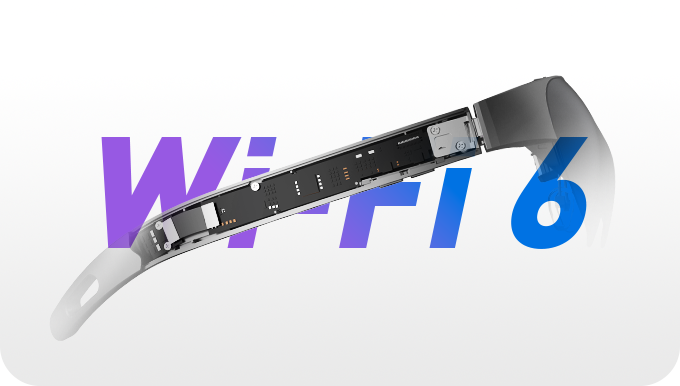 With the built-in Wi-Fi 6 tech and 2x2 MIMO antenna, Dream Glass Flow can boost your gaming experience with up to 2400 Mbps speed and minimum latency. It is compatible with 5G hotspot too. Say goodbye to network stutter and enjoy your rise on the scoreboard!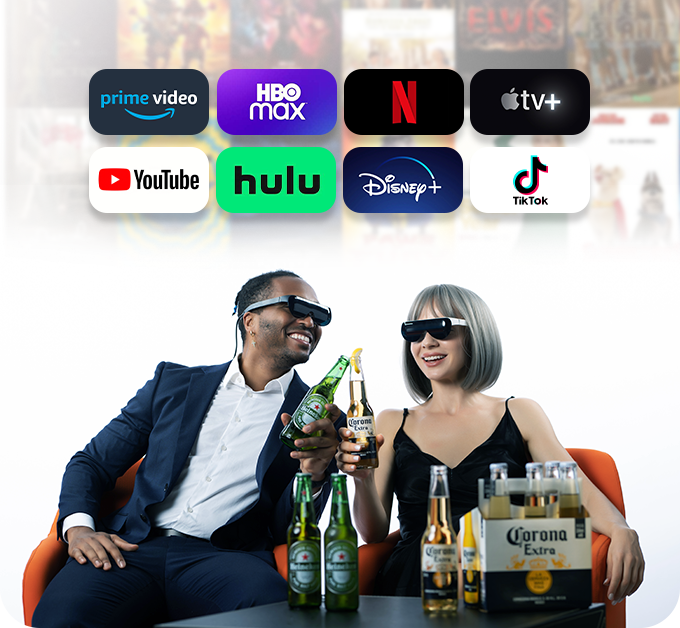 Flow is not only for gaming. For movie lovers, you can put Dream Glass Flow on and enjoy your immersive and private theater anywhere you go. With the massive 120" AR screen only seen by yourself, no matter you are on an airplane, in a Café, or in the backseat of a car, you can enjoy your favorite movie or TV shows without disturbing others or being disturbed. You can also share the same movie with a friend with the HDMI splitter.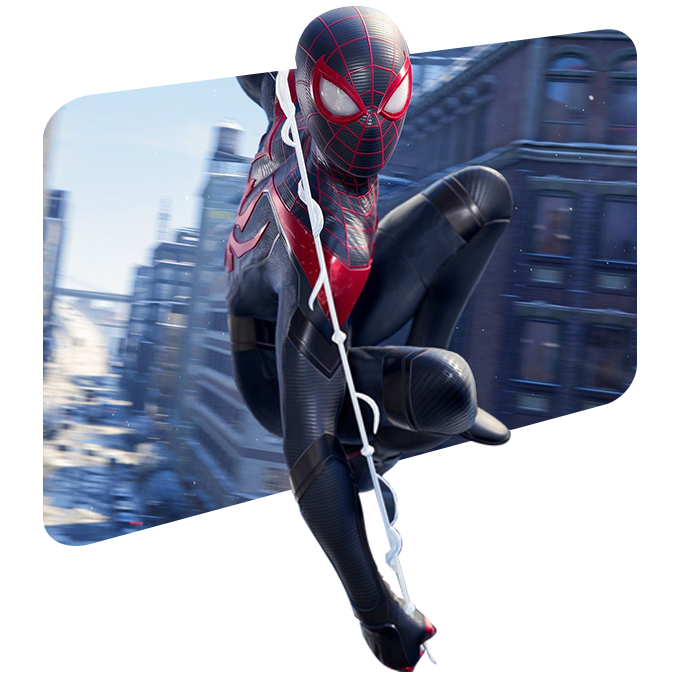 The digital world in the future will be in 3D. Dream Glass Flow is future-proof with 3D and 360 degree rendering capability. With one simple press on the button on the left leg, you can enjoy your private cinema in a more immersive 3-Dimensional way! Working along with 3D streaming platform like VUDU and Plex, you can enjoy a lot of 3D contents on the cloud. For developers and 3D designers, we even provide an SDK for you to create your own 3D and 360° contents.

IMAGE QUALITY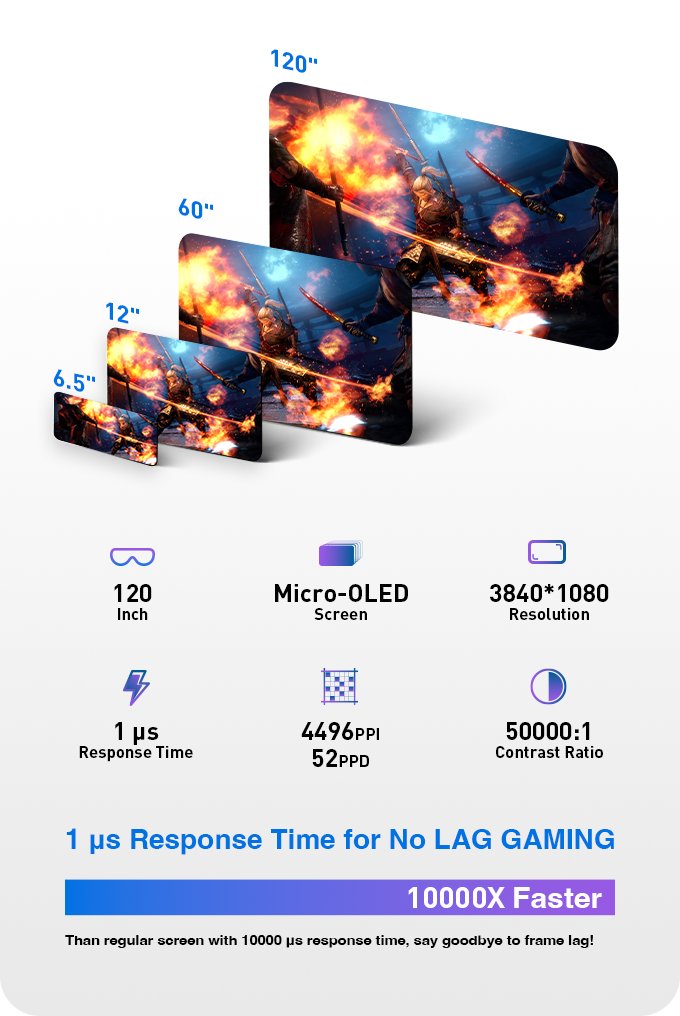 SOUND SETTING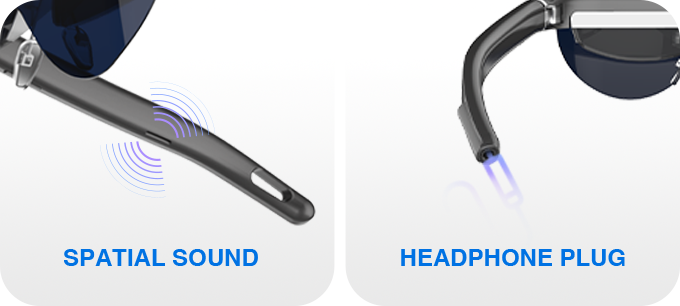 With dual private speakers embedded inside of the two temples directing to your ears, Dream Glass Flow adds spatial sound to your gaming/cinema experience in privacy. Wired and Bluetooth headphones are also supported. You can always plug in or pair your headphone and dive into fantasy in total immersive fashion.
MYOPIA/ASTIGMATISM FRIENDLY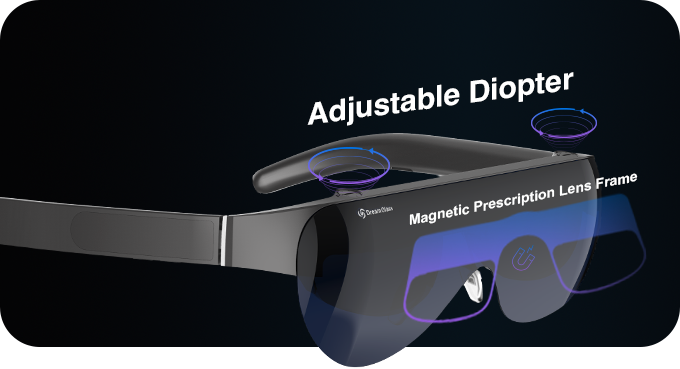 As a cyber citizen, a lot of us wear prescription glasses. Dream Glass Flow has built-in 0-5 Diopter myopic adjustment for most of us. For backers with astigmatism or myopia over 5D, you can wear Dream Glass Flow on top of your prescription glasses, or you can use the optional Magnetic Prescription Lens Frame to secure a dedicated pair of lenses.
AMBIENT & IMMERSIVE MODES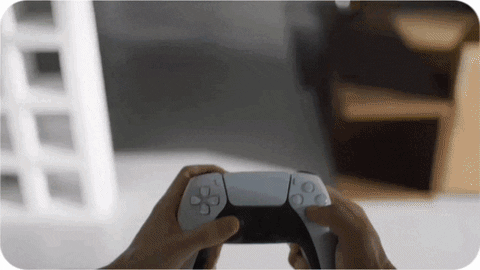 Dream Glass Flow ensures you are aware of the real surrounding while exploring in the cyber world. Different from Virtual Reality, your gaming or cinema experience with Augmented Reality of DG Flow is as immersive, but not isolated. The AR screen can even minimize to the corner when you move around. Move safely while keeping an eye on Spider Man.
SUNGLASSES  DESIGN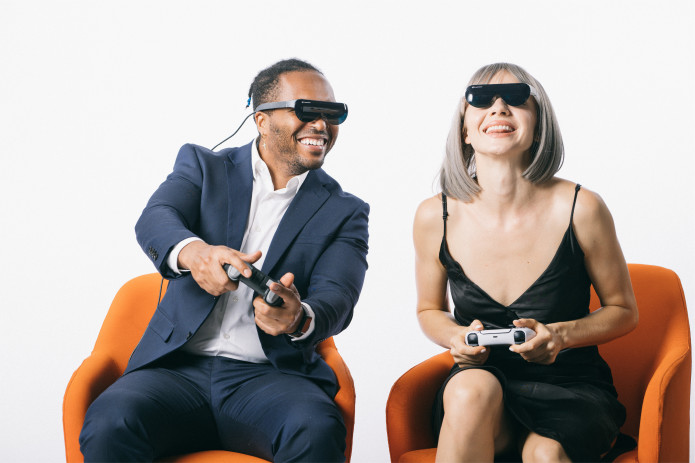 Dream Glass Flow looks like a pair of sunglasses. It weighs like a pair of sunglasses (2oz/59g) too, but with a lot of more technology integrated inside. Say goodbye to those big and heavy headsets, you can now enjoy your favorite games or movies with great comfort and without peer pressure. Technology and fashion are coupled together to bring you the ultimate experience.