Dream Glass Flow
·59g Ultra-Lightweight
·120" Portable Screen
·3840*1080 Resolution
·Wi-Fi 6 & 5G Boosted
·Myopia Friendly

Dream Glass Flow are Augmented Reality (AR) glasses for gaming &video streaming and provides the ultimate comfortable gaming experience.

New Ways for Game: Remote Play for PlayStation, Xbox, PC, as well as cloud gaming/video streaming across various platforms.
Best Buddy for Switch and Steam Deck:upgrades portable gaming experience from 7 inches to 120 inches for handhelds (Nintendo Switch, Steam Deck and more).
Watch Anytime, Anywhere: Weighing only 59g/2oz.Limitless entertainment at home, office, outdoors or a plane.
Immerse Vision Experience: with Wi-Fi 6 and 2x2 MIMO (Multiple Input Multiple Output) technology, which makes efficient use of network bandwidth and eliminates latency, delivering to you the smoothest online gaming experience.
Myopic-Friendly: Supports near-sighted adjustment within 500° in both eyes.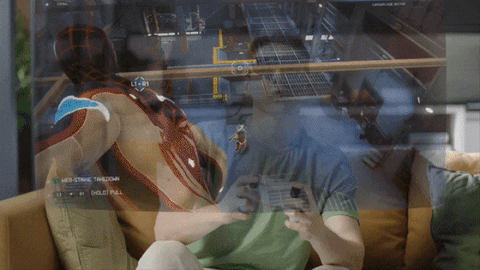 No need to hold a handheld up high or watch gaming monitor in an award angle, you can now play your favorite game in the most comfortable position, for as long as you like!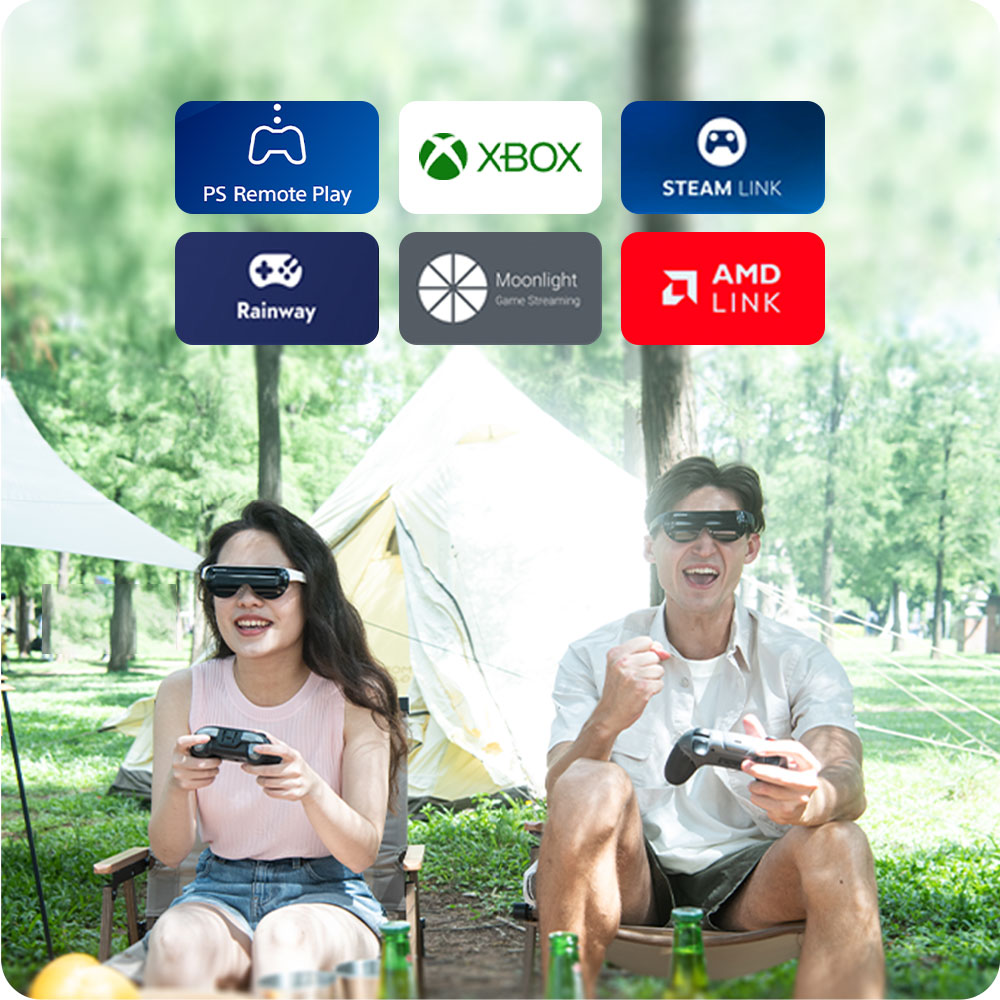 You can access your gaming rigs remotely with Dream Glass Flow through remote play apps such as PS Remote Play, Xbox App, and more. No matter you are camping with friends, chilling in a café, or just having sometime during lunch break, Dream Glass Flow make it possible to play your favorite AAA games anytime and anywhere, in total privacy!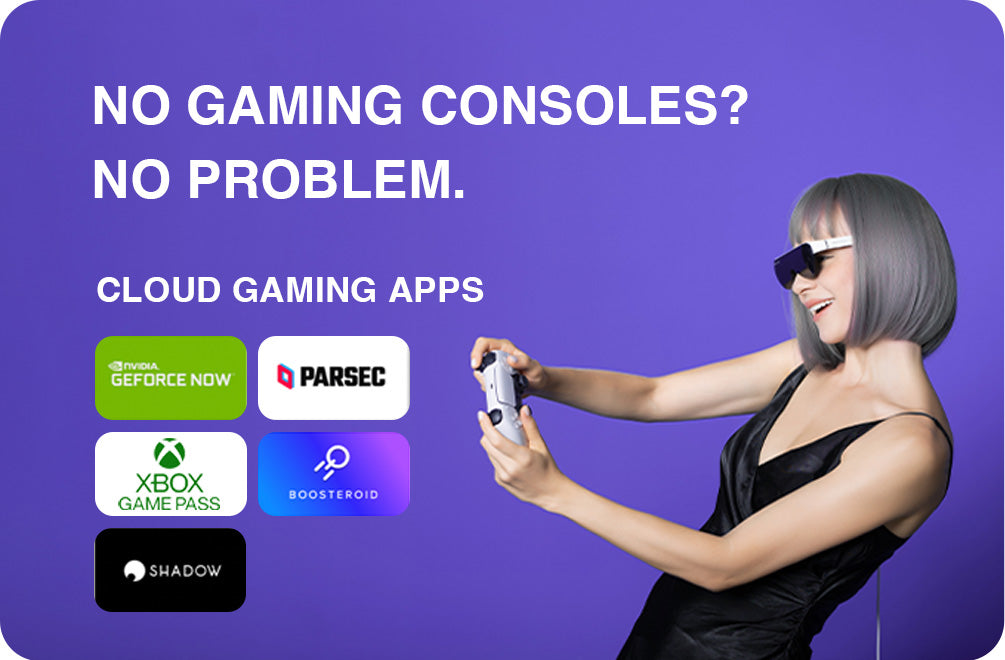 Dream Glass Flow supports all cloud gaming platforms such as GeForce Now, Xbox Game Pass, Parsec, and more, making gaming on the cloud more accessible than ever. No need for the latest GPU which costs a fortune, with Wi-Fi 6 connectivity and 5G compatibility, Dream Glass Flow lets you to play AAA masterpieces with ease.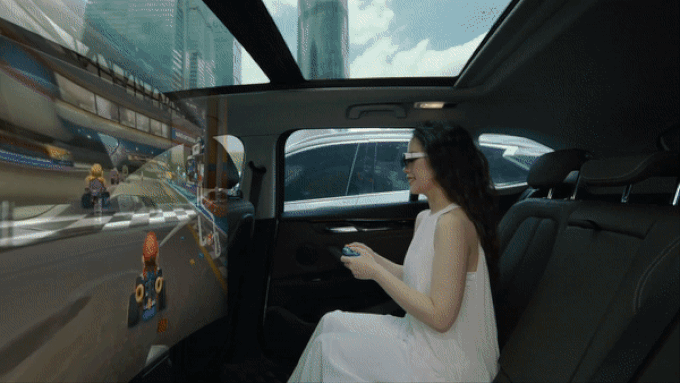 Dream Glass Flow is the best buddy for handhelds such as Nintendo Switch and Steam Deck. No longer squinting at the small screen, you can now break free to enjoy your handheld games with a 120" display! Upgrade your handheld experience with Dream Glass Flow to dive into the cyber world anywhere you go!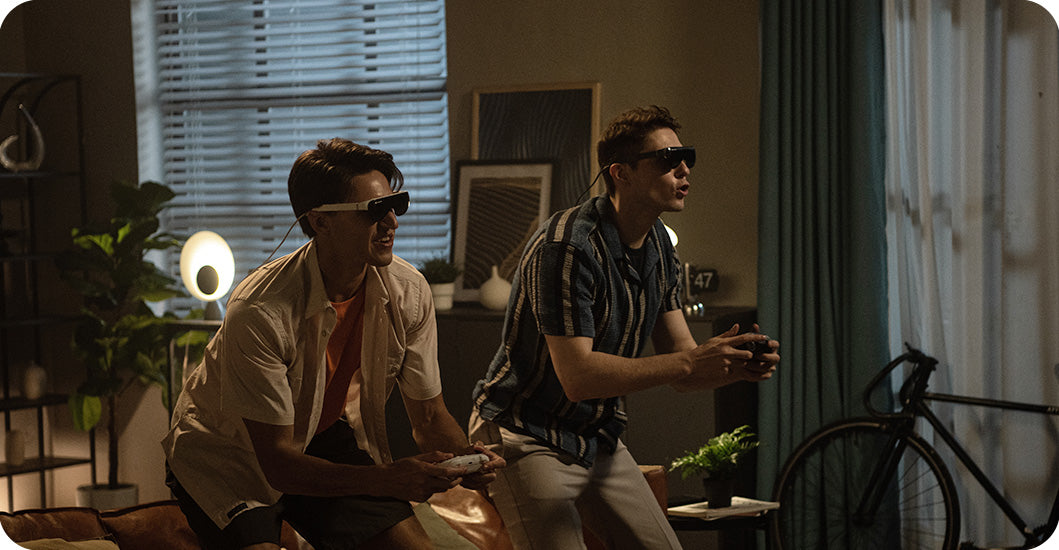 A good buddy spices up the game. Join 
multiplayer games
 using Dream Glass Flow, and share the laughter and joy with your friends. With the 
HDMI Splitter in the Flow Ultimate Double set
, you can easily double the fun and co-op with your friend by connecting two Flow glasses to one console.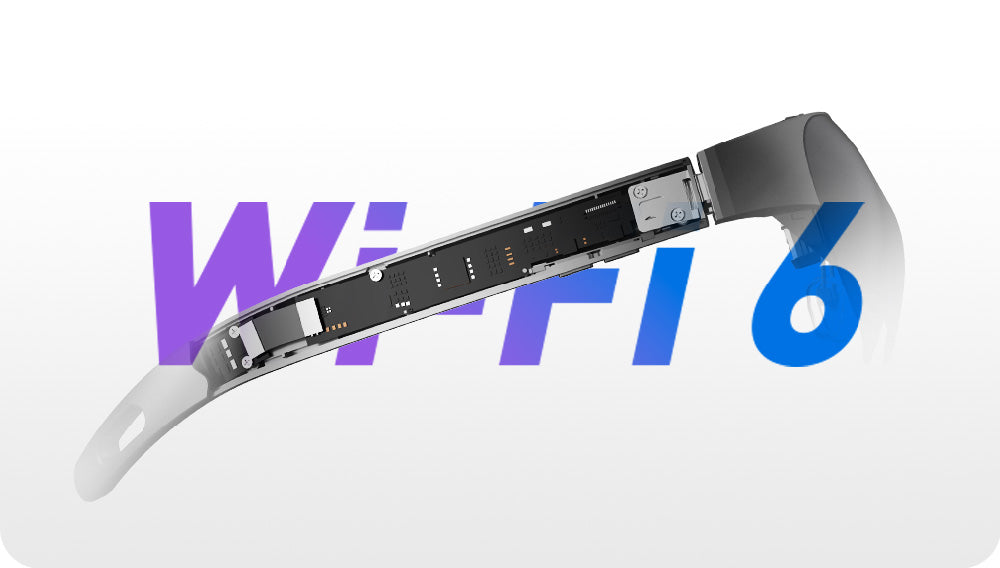 With the built-in Wi-Fi 6 tech and 2x2 MIMO antenna, Dream Glass Flow can boost your gaming experience with up to 2400 Mbps speed and minimum latency. It is compatible with 5G hotspot too. Say goodbye to network stutter and enjoy your rise on the scoreboard!

Flow is not only for gaming. For movie lovers, you can put Dream Glass Flow on and enjoy your immersive and private theater anywhere you go. With the massive 120" AR screen only seen by yourself, no matter you are on an airplane, in a Café, or in the backseat of a car, you can enjoy your favorite movie or TV shows without disturbing others or being disturbed. You can also share the same movie with a friend with the HDMI splitter.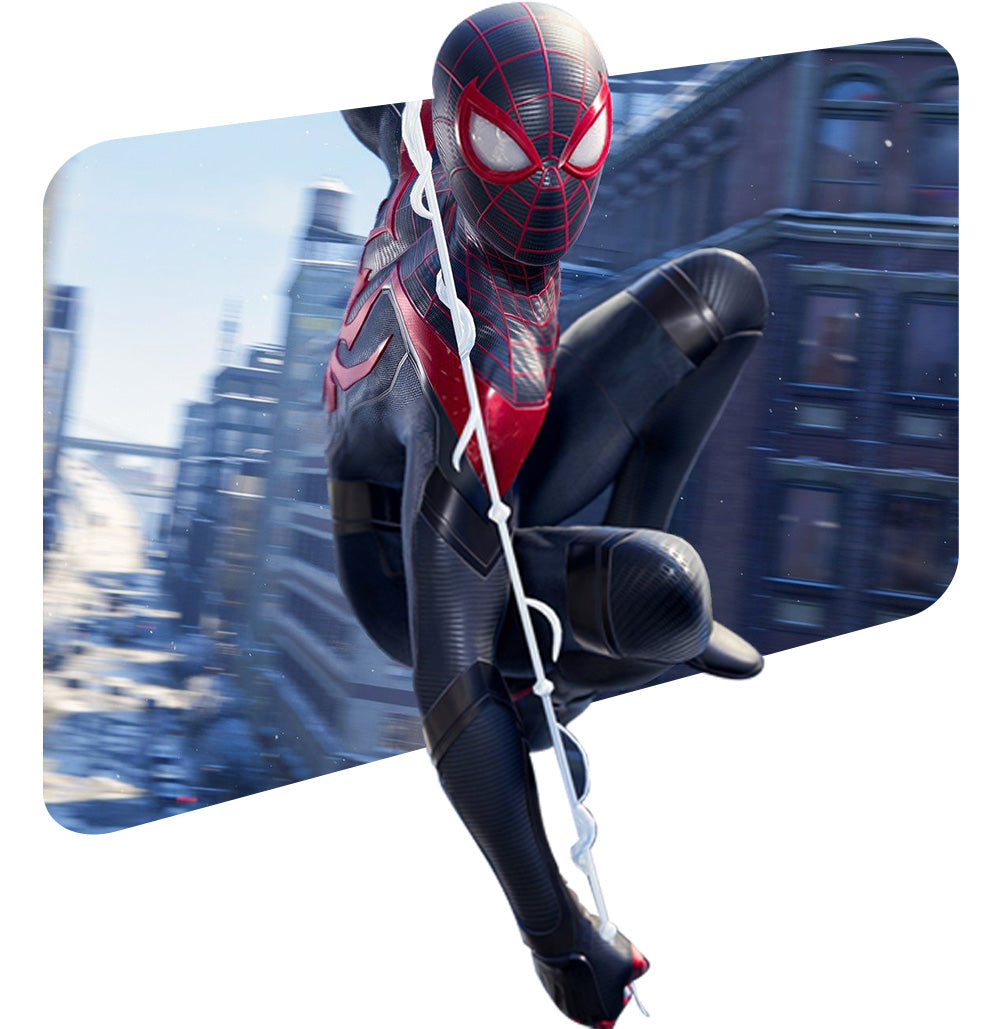 Dream Glass Flow is future-proof with 3D and 360 degree rendering capability. With one simple press on the button on the left leg, you can enjoy your private cinema in a more immersive 3-Dimensional way! For developers and 3D designers, we even provide an SDK for you to create your own 3D and 360° contents.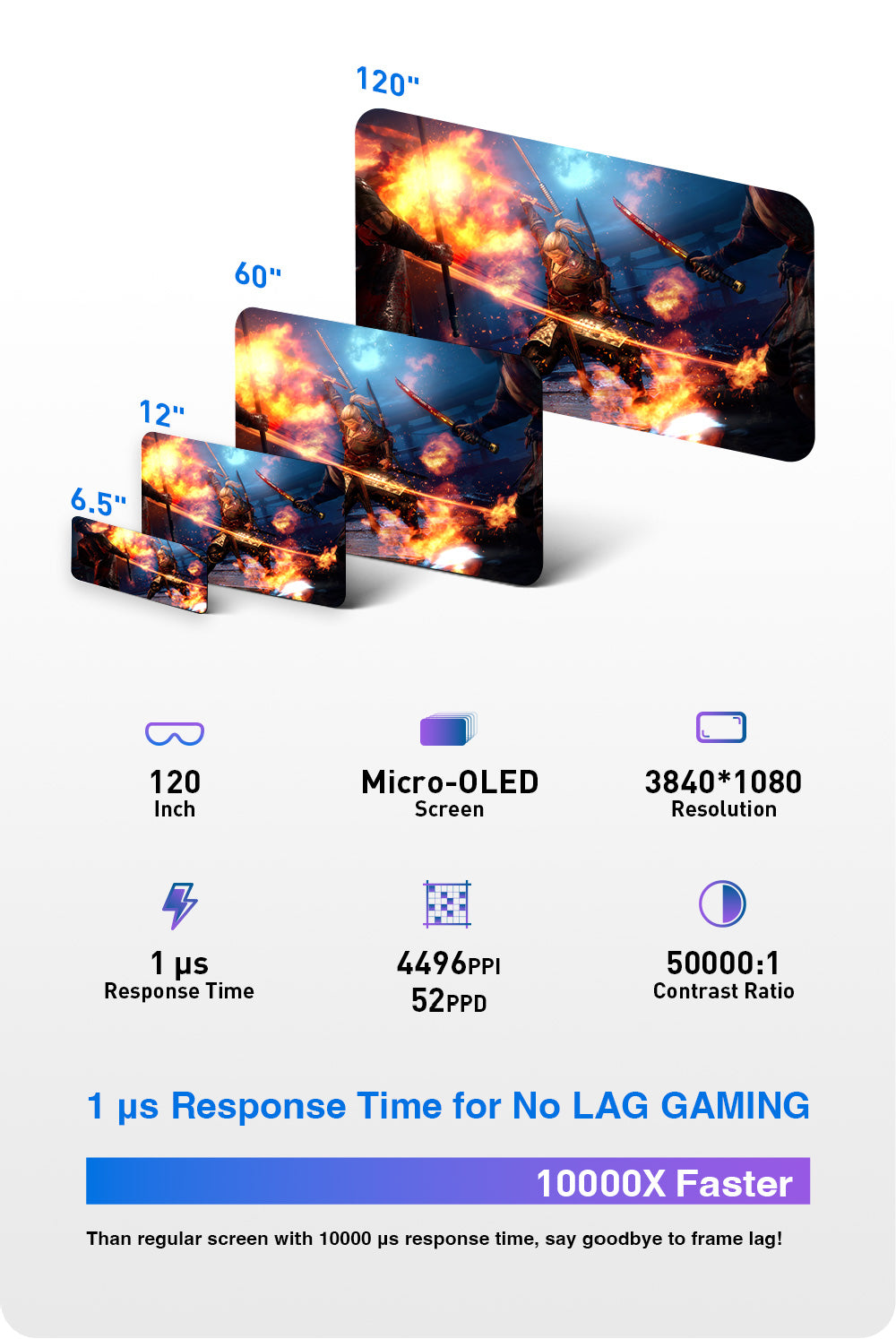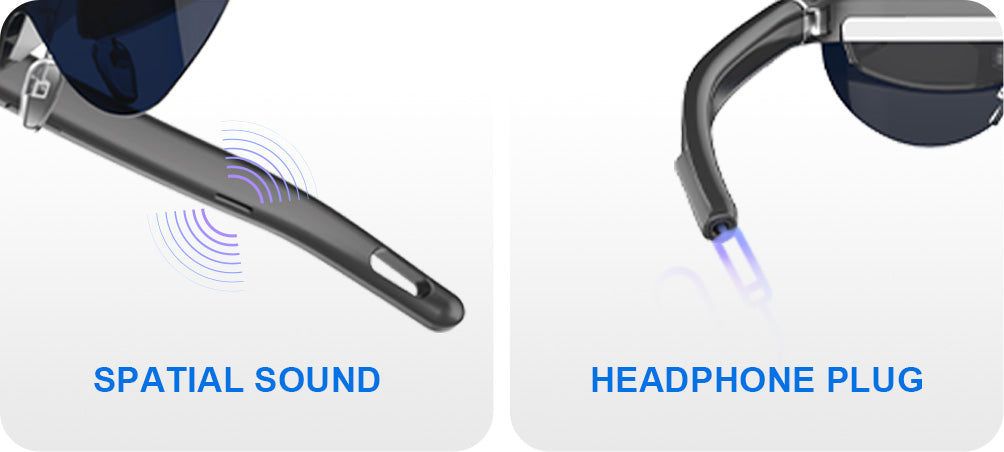 With dual private speakers embedded inside of the two temples directing to your ears, Dream Glass Flow adds spatial sound to your gaming/cinema experience in privacy. Wired and Bluetooth headphones are also supported. You can always plug in or pair your headphone and dive into fantasy in total immersive fashion.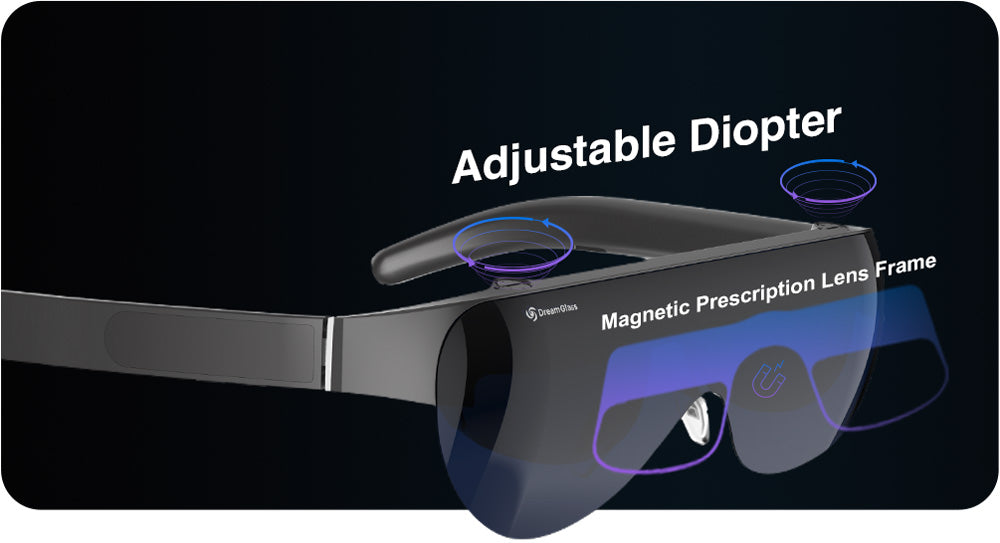 As a cyber citizen, a lot of us wear prescription glasses. 
Dream Glass Flow has built-in 0-5 Diopter myopic adjustment for most of us.
 For backers with astigmatism or myopia over 5D, you can wear Dream Glass Flow 
on top of your prescription glasses
, or you can use the optional 
Magnetic Prescription Lens Fram
e to secure a dedicated pair of lenses.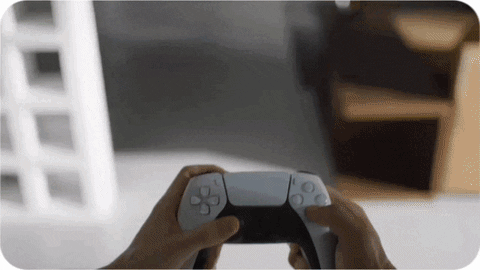 Dream Glass Flow ensures you are aware of the real surrounding while exploring in the cyber world. Different from Virtual Reality, 
your gaming or cinema experience with Augmented Reality of DG Flow is as immersive, but not isolated.

 
The AR screen can even minimize to the corner when you move around. Move safely while keeping an eye on Spider Man.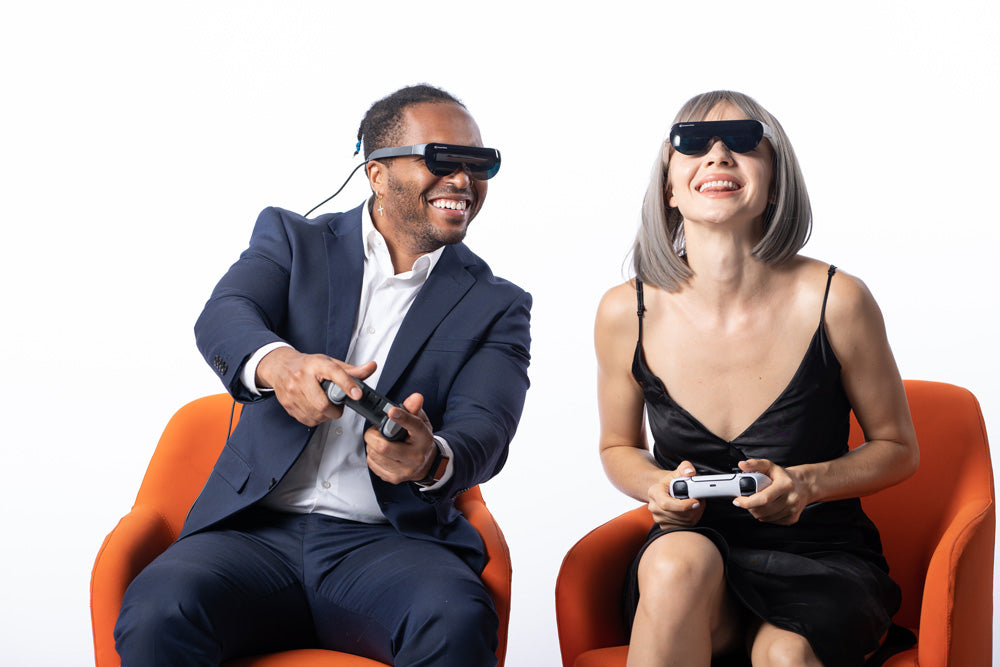 Dream Glass Flow looks like a pair of sunglasses. It weighs like a pair of sunglasses (2oz/59g) too, but with a lot of more technology integrated inside. Say goodbye to those big and heavy headsets, you can now enjoy your favorite games or movies with great comfort and without peer pressure. Technology and fashion are coupled together to bring you the ultimate experience.
We have been donating headsets to Stanford University Children's Hospital in the past 3 years and we are proud that we have made a difference. Our previous Dream Glass 4K was used in the hospital to reduce the anxiety of sick children and here is a scientific presentation at in Society of Technology in Anesthesia. We have pledged to donate all new Dream Glass Flow headsets to Stanford University Children's Hospital too.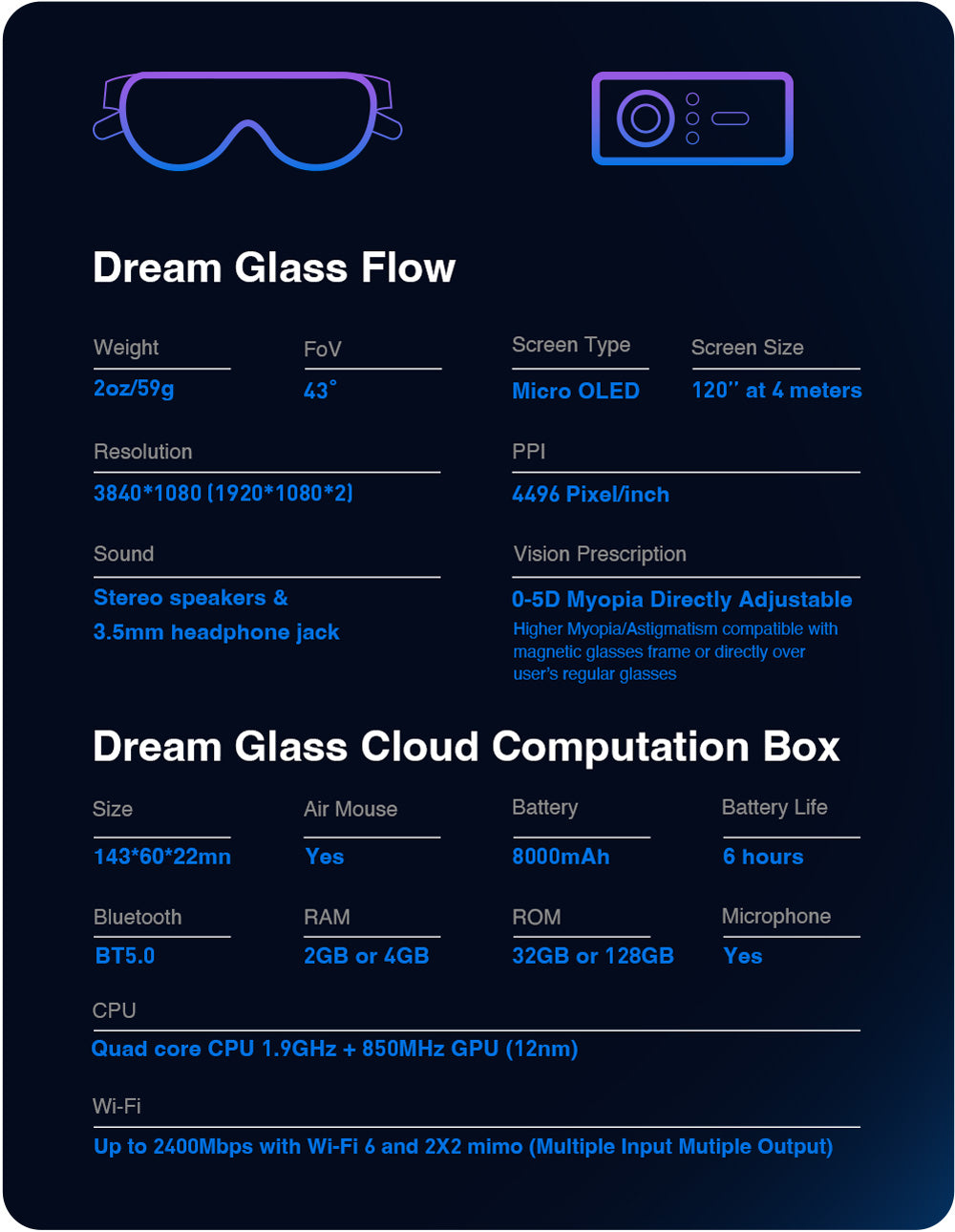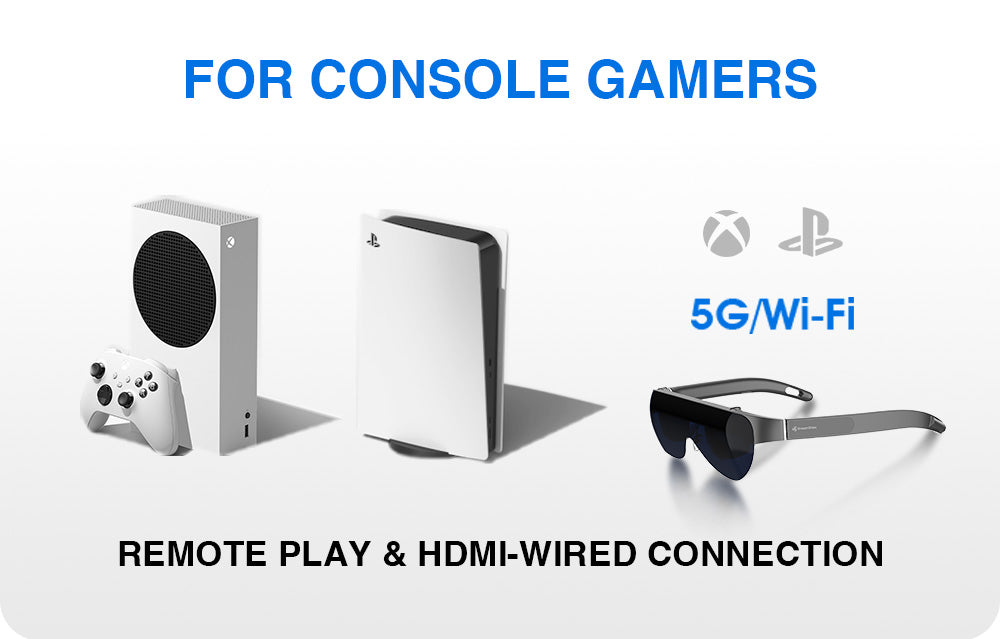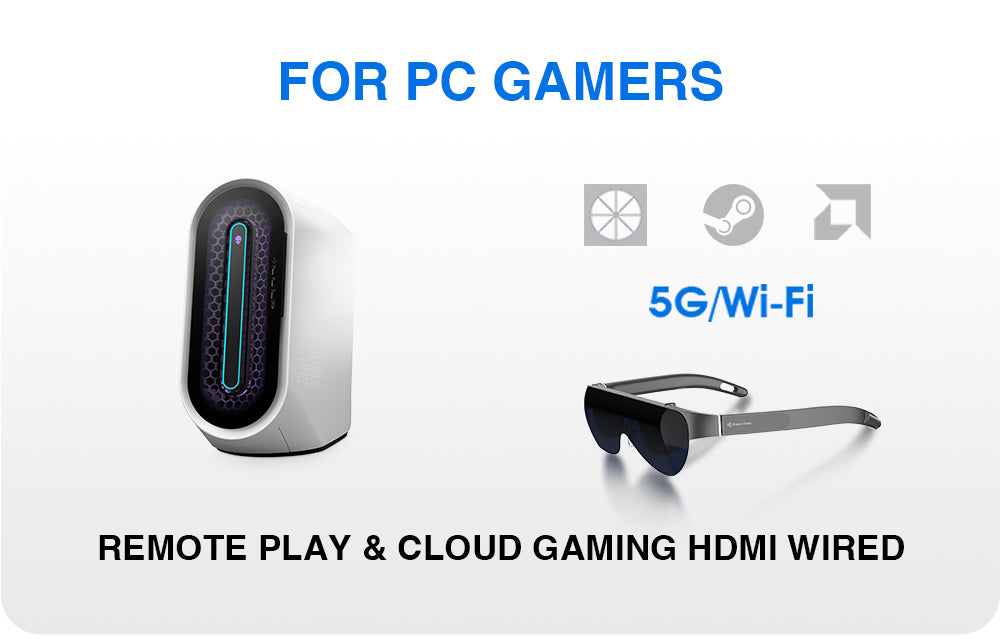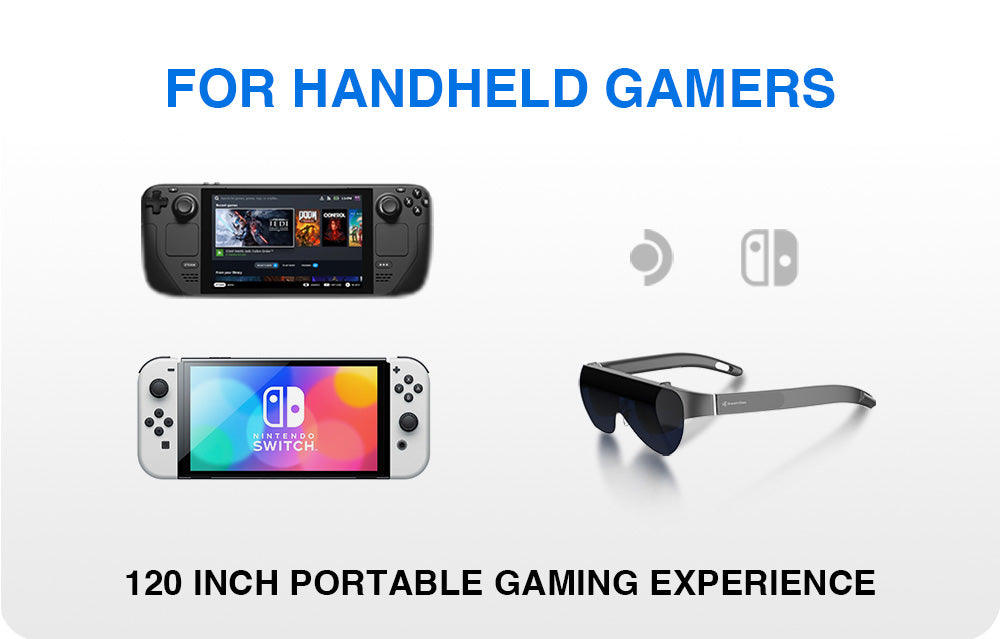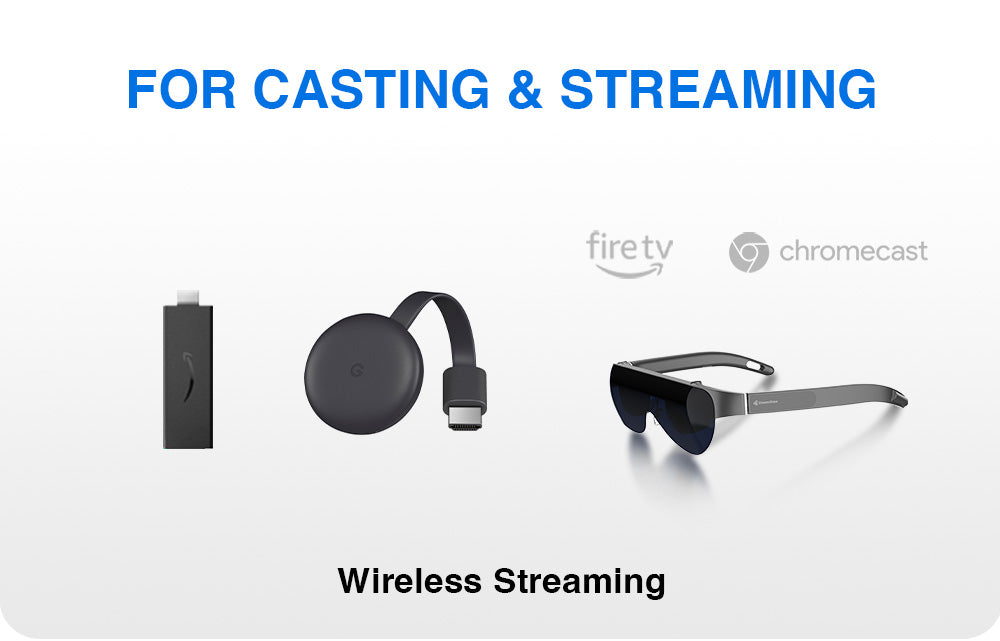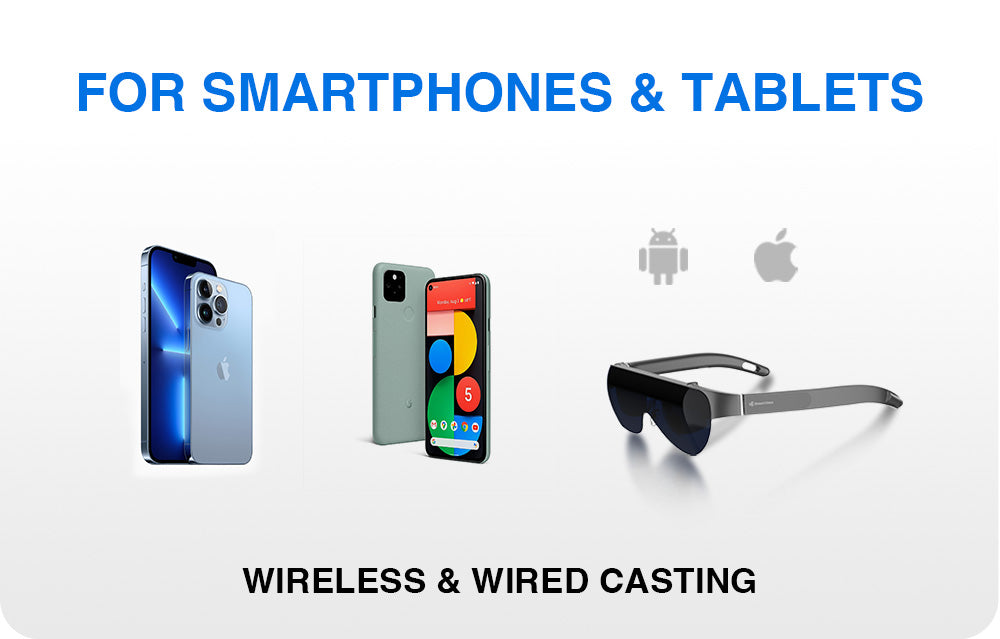 1. How good is the gaming experience with Dream Glass Flow?

10+ Early testers have tried our Dream Glass Flow Prototypes. Here are their feedback:

1) they love the big screens allowing them to see details of the games;

2) they feel comfortable wearing the glasses by lying down in bed or in whatever position they feel comfortable, and

3) once they connect to Wi-Fi, they can play their games anywhere they want with fast connection speed.


2. What if I want to play games wearing the glasses outside with natural sun light?

They natural sunlight will brighten the background and making the screen difficult to be seen. However, the glasses come with a pair of black light-proof cover, which would give users a dark screen background even under the sun.


3. How heavy are the glasses? Can I play it lying on sofa or my bed?

The glass is only 2 oz, which is the lightest AR glasses in the market today. And yes, many our gamers said lying on the sofa and wear our glasses for games is probably the best gaming experience they ever had before.


4. Will I be able to use it for watching movies? What move apps are supported?

The answer is yes, of course! Thanks to the built-in OS of the cloud box, the Dream Glass Flow supports almost all major video streaming services, such as Netflix, YouTube,Hulu, HBO Max, Prime Video, Twitch, and many others. Turn it on and watch your favorite TV shows and movies! You can also connect your phone/PC/Mac to use movie apps on those devices too. You can also connect Dream Glass Flow to Chromecast and Fire TV for movie watching.


5. What if I already wear prescription glasses?

There are convenient knobs at the top of the glasses that can be used to adjust each lens to your prescription (0 to -5.00D myopia). If your prescription does not fall into this range, don't worry, Dream Glass Flow has developed a prescription frame that magnetically attaches to the glasses so that everyone can use.


6. How is the battery life of the cloud computaton box?

You can expect a battery life of 6-7 hours on one charge.